Supplements
Not all supplements are created equal. Common diluents are often used as fillers in many products. Some of these are:
soy oil
corn starch
lactose
Raw materials that are commonly used for supplements are:
drying agents
preservatives
cornstarch (vitamin C can be 40% cornstarch!)
lactose, sucrose
hydrolyzed soy protein
dextrose
mono and diglycerides of fatty acids
acacia
dicalcium phosphate
BHA, BHT
sorbic acid
sodium benzoate
methyl and propyl parabens
These do not have to be disclosed on the label unless they are added by the finished product manufacturer.
When finishing the manufacture of supplements typical flowing agents, lubricants and diluents are commonly used. Some of these include:
magnesium stearate (has to be heated to 140 degrees F. to dissolve)
ascorbyl palmitate or other stearates.
These agents added to supplements make them less water soluble and absorption is unpredictable. You could be wasting your hard earned dollars on something that may be going into your toilet! This is especially true in the elderly who generally have less hydrochloric acid for digestion to break down these supplements.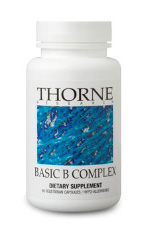 The "Supplemental Facts" on a bottle of supplements is cosmetically flawed. There are ingredients in a dietary supplement that its purchaser may never be aware of. These are the ingredients already in the raw material purchased by the manufacturer. The difference here is when the manufacturer has a concern for the quality of the raw ingredients. The label may have the same label ingredients but different raw materials.

For the above reasons Better Living Nutrition chooses supplements carefully for those clients needing extra supplementation. The main supplement supplier for our clients is Thorne Research. When you read the label on Thorne supplements you will find "none of the above", which is why our clients get good results when supplementing their nutrition. Thorne also does not add colorants, plasticisers, or lubricants. Thorne purchases the finest raw ingredients and when it comes to minerals, they make their own. When raw materials come in they are analyzed for identification, purity and homogeneity and when the supplement is mixed from these ingredients it is re-analyzed in six months to check for stability. Thorne supplements are also hypoallergenic.

Vitamins by definition are essential for optimal health. Thorne Research offers a vast selection of vitamins to serve your nutritional needs – all using the most bioavailable forms for greater utilization by the body. When it comes to supplements, every individual has unique nutritional requirements, so it's best to book a session and Glenda can advise you what you should be taking based on your health history and current health goals.